Warning
: strtotime(): It is not safe to rely on the system's timezone settings. You are *required* to use the date.timezone setting or the date_default_timezone_set() function. In case you used any of those methods and you are still getting this warning, you most likely misspelled the timezone identifier. We selected the timezone 'UTC' for now, but please set date.timezone to select your timezone. in
/home/bezan/public_html/libraries/joomla/utilities/date.php
on line
56
Warning
: date(): It is not safe to rely on the system's timezone settings. You are *required* to use the date.timezone setting or the date_default_timezone_set() function. In case you used any of those methods and you are still getting this warning, you most likely misspelled the timezone identifier. We selected the timezone 'UTC' for now, but please set date.timezone to select your timezone. in
/home/bezan/public_html/libraries/joomla/utilities/date.php
on line
198
Wpisany przez Administrator |
Warning: mktime(): It is not safe to rely on the system's timezone settings. You are *required* to use the date.timezone setting or the date_default_timezone_set() function. In case you used any of those methods and you are still getting this warning, you most likely misspelled the timezone identifier. We selected the timezone 'UTC' for now, but please set date.timezone to select your timezone. in /home/bezan/public_html/libraries/joomla/utilities/date.php on line 117

Warning: date(): It is not safe to rely on the system's timezone settings. You are *required* to use the date.timezone setting or the date_default_timezone_set() function. In case you used any of those methods and you are still getting this warning, you most likely misspelled the timezone identifier. We selected the timezone 'UTC' for now, but please set date.timezone to select your timezone. in /home/bezan/public_html/libraries/joomla/utilities/date.php on line 249

Warning: strftime(): It is not safe to rely on the system's timezone settings. You are *required* to use the date.timezone setting or the date_default_timezone_set() function. In case you used any of those methods and you are still getting this warning, you most likely misspelled the timezone identifier. We selected the timezone 'UTC' for now, but please set date.timezone to select your timezone. in /home/bezan/public_html/libraries/joomla/utilities/date.php on line 250
23 lipca 2014
Historia zakupu rozpoczęła się wraz ze sprzedażą naszego najstarszego mazurskiego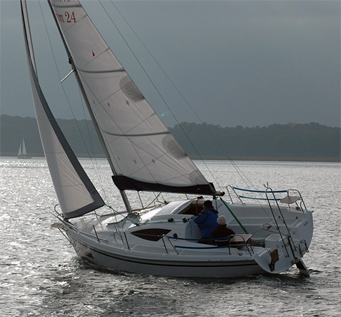 jachtu Bartek (Venus). Smutna decyzja o rozstaniu się z Bartkiem była spowodowana konieczności wymiany floty mazurskiej na bardziej nowoczesną i dostosowaną do nowych trendów jednostek czarterowych. Na mazurach pozostał nasz ostatni jacht Mistral (Tango780F) i decyzją zarządu klubu podjęto udaną próbę jego sprzedaży. Wstępne założenia przewidywały zakup używanej jednostki, nowszej jednak niż dotychczasowy Mistral. Wtedy jeszcze nikt nie zdawał sobię sprawy że dzięki niezwykłemu zaangażowaniu kolegów z zarządu udało się pozyskać sponsora który zaoferował pomoc.
Połączenie środków zgromadzonych ze sprzedaży dotychczasowych jednostek wraz ze sponsoringiem uświadomiły nam możliwość zakupu zupełnie nowego jachtu. Ta świadomość dodała skrzydeł całemu przedsięwzięciu i dzięki determinacji kilku członków zarządu wybrano typ jednostki oraz stocznię która zobowiązała się ją dostarczyć. Po "burzy mózgów" i negocjacjach ze stoczniami jachtowymi na tegorocznych targach żeglarskich "Wiatr i Woda" w Warszawie podjęto decyzję o zakupie jachtu Antila 24 ze stoczni w Radomiu.(stocznia to: http://www.antila-yachts.pl/ ).
Finałem całej tej historii jest całkowicie nowy jacht Antila 24 ochrzczony nazwą Cirrus wyposażonym w nowy silnik Yamaha 6. Chrzest odbył się w miejscowości Rydzewo nad jeziorem Bocznym.  Całość poprzedzona była kilkoma dniami ciężkich prac przygotowujących jacht do żeglugi czarterowej. Matką chrzestną została Anna Witkowska, żona naszego komandora. Jak to bywa w takich sytuacjach, wygłosiła formułkę chrztu i polała dziób Cirrusa szampanem. Po zakończeniu ceremonii jeden z naszych komandorów tradycyjnie ruszył do pozostałych żeglarzy cumujących przy tym samym pomoście co nasz "Cirrus" z  poczęstunkiem. Zapewniamy ,że trunek był szlachetny. Wszyscy obecni wypili "zdrowie" naszego nowego jachtu. W "dziewiczy" rejs popłynął kom. Robert Trojanowski, a pozostali niestety musieli wrócić do domu.
Pozostaje Nam podziękować wszystkim zaangażowanym w to jakże wspaniałe przedsięwzięcie.
Mamy nadzieje że Cirrus będzie służył wszystkim członkom klubu oraz sympatykom.
Zapraszamy do rezerwacji czarteru.
Więcej informacji o jachcie w dziale czartery
.
Serdecznie dziękujemy !
Zarząd Bezan YC