Warning
: strtotime(): It is not safe to rely on the system's timezone settings. You are *required* to use the date.timezone setting or the date_default_timezone_set() function. In case you used any of those methods and you are still getting this warning, you most likely misspelled the timezone identifier. We selected the timezone 'UTC' for now, but please set date.timezone to select your timezone. in
/home/bezan/public_html/libraries/joomla/utilities/date.php
on line
56
Warning
: date(): It is not safe to rely on the system's timezone settings. You are *required* to use the date.timezone setting or the date_default_timezone_set() function. In case you used any of those methods and you are still getting this warning, you most likely misspelled the timezone identifier. We selected the timezone 'UTC' for now, but please set date.timezone to select your timezone. in
/home/bezan/public_html/libraries/joomla/utilities/date.php
on line
198
Wpisany przez Andrzej Kozieł |
Warning: mktime(): It is not safe to rely on the system's timezone settings. You are *required* to use the date.timezone setting or the date_default_timezone_set() function. In case you used any of those methods and you are still getting this warning, you most likely misspelled the timezone identifier. We selected the timezone 'UTC' for now, but please set date.timezone to select your timezone. in /home/bezan/public_html/libraries/joomla/utilities/date.php on line 117

Warning: date(): It is not safe to rely on the system's timezone settings. You are *required* to use the date.timezone setting or the date_default_timezone_set() function. In case you used any of those methods and you are still getting this warning, you most likely misspelled the timezone identifier. We selected the timezone 'UTC' for now, but please set date.timezone to select your timezone. in /home/bezan/public_html/libraries/joomla/utilities/date.php on line 249

Warning: strftime(): It is not safe to rely on the system's timezone settings. You are *required* to use the date.timezone setting or the date_default_timezone_set() function. In case you used any of those methods and you are still getting this warning, you most likely misspelled the timezone identifier. We selected the timezone 'UTC' for now, but please set date.timezone to select your timezone. in /home/bezan/public_html/libraries/joomla/utilities/date.php on line 250
28 marca 2011

Mazury, kraina wielkich jezior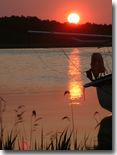 Kazdy żeglarz wiedzieć powinien, że Wielkie Jeziora Mazurskie stanowią największy w Polsce zespół połączonych kanałami jezior i zajmują około 20% powierzchni Krainy Wielkich Jezior. Nikogo, kto na Mazurach był nie trzeba przekonywać,że to cudowne miejsce, szczególnie jak się chce zaliczyć totalny odpoczynek dla mózgu i jednocześnie lubi adrenalinę. 

WMJ położone są we wschodniej części Pojezierza Mazurskiego. Obejmują dodatkowo fragment Równiny Mazurskiej, a na ich południu znajduje się zwarty kompleks Puszczy Piskiej, od wschodu zaś ograniczone są kompleksem Puszczy Boreckiej. Na północy obszar WJM graniczy z Krainą Węgorapy, a od zachodu z Pojezierzem Mrągowskim. 


Jeziora połączone są systemem kanałów i mają wyrównany poziom wód na wysokości 116m. Wody z jezior odpływają w dwóch kierunkach - za pośrednictwem Węgorapy wypływającej z jeziora Mamry do Pregoły oraz za pośrednictwem Pisy wypływającej z jeziora Roś do Wisły.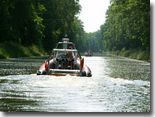 Kraina Węgorapy stanowi przedłużenie ku północy Krainy Wielkich Jezior Mazurskich, od której różni się niższym położeniem nad poziomem morza oraz innym typem rzeźby. Cechą charakterystyczną jest wykształcony odpływ rzeczny w postaci wypływającej z jeziora Mamry Węgorapy i jej dopływu Gołdapi oraz gęsta sieć kanałów.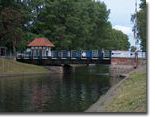 Stolica Mazur - Giżycko - W tej części Mazur jest bardzo dobrze rozwinięta baza noclegowa i usługowa. Warto tutaj spędzić więcej czasu gdyż kraina ta jest bogata w zabytki i atrakcje turystyczne. Położenie na głównym szlaku Wielkich Jezior Mazurskich zapewni nam dobry dojazd.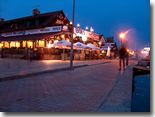 Mikołajki - podobno perła Mazur, jak ktoś oczywiście lubi perły. Zasługują jednak mimo wszytsko na uwagę, nawet jak ktoś woli dzikie i ciche zakątki. To królestwo szant i łopotu żagli, dzięki czemu stały się mekką żeglarzy, przyciągają często odbywającymi się regatami i innymi atrakcjami. Choć raz warto się tu zatrzymać.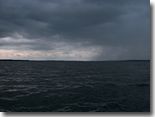 Śniardwy - Najwieksze Polskie jezioro często nazywane mazurskim morzem dla niedoświadczonych żeglarzy może być groźne, o czym niektórzy mieli okazję sie już przekonać. Płytkie, pełne głazów, ale ma swój diabelski urok.. Polecam wizytę na Pajęczej Wyspie - to jak błękitna laguna, raj odnaleziony, wtajemniczeni wiedzą o co chodzi.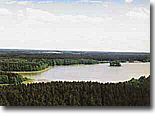 Południe Mazur - Puszcza Piska - miejsce dla tych, którzy pragną ciszy i spokoju. Czyste jeziora, wiekowe drzewa i często dziewicza przyroda powodują że kierunek ten obierają Ci co pragną odpoczynku od miejskiego zgiełku oraz miłośnicy przyrody.